News
2021-01-14 11:53:10
695
Seoul, Korea, Hannam-dong, Itaewon, HBC, UN Village, real estate, relocation, housing, accommodation, rent, Oksu-dong, embassy, moving, home, Korea, villa, apartment, Gangnam, Seocho, Seorae village,
서울용산국제학교
(Yongsan International School of Seoul)
Age Group : From Elementary to High School
Location : 285 Itaewon-ro, Yongsan-gu, Seoul
(서울특별시 용산구 이태원로 285)
Foundation : 2006
Education Language : English
Curriculum :
Elementary School
- Students in kindergarten through 5th grade are nurtured academically with an international education designed to lay a solid foundation for lifelong learning. Elementary school classrooms are curriculum encourage students to explore new ideas, gain critical skills, and cultivate a love of learning.
Core Subjects
Bible
NICS students take Bible as a core subject. The Purposeful Design curriculum is organized by grade-level and lessons teach key biblical concepts using engaging age-appropriate methods. The Biblical truths presented build on the foundational truths students have learned in previous grades. Lessons are structured around the following developmental domains: social and emotional, language and literacy, cognitive, and small- and large-motor skills. All grades move through the different levels of Bloom's Taxonomy.
Character
Oasis students take character education as a core subject. The curriculum includes a study of 42 character traits that are foundational qualities. The list of traits includes the following: responsibility, respect, compassion, perseverance, integrity, and self-control. In addition, students become familiar with historical figures who demonstrated different character traits through their actions and their lives.
English Language Arts
Elementary English language arts focuses on the development of phonics skills (K-2nd), as well as writing and literacy skills with the application of Teachers College (Columbia University) Reader and Writer's Workshop. Following the workshop model of teaching and modeling specific skills and strategies, students practice independently and share how they applied a strategy in their own reading and writing. Workshops further develop independence, confidence, and motivation in the students' reading and writing.
Mathematics
In elementary math classes, students actively approach each math concept in both whole group interactive lessons and in a small group math workshop model through games, activities, manipulatives, and more. The math curriculum is problem-based, and interactive learning continues with a wide range of concepts to prepare our students for the next levels of math learning.
Science
The elementary science curriculum equips students to discover the infinite complexity and orderliness of the world, learn about themselves, and recognize their role as caretakers of the world. The curriculum provides students with experiences that help them learn about the world. Students are taught to practice the scientific method in order to gain a greater understanding of the topics studied. Units of study focus on life, earth, or physical science concepts.
Social Studies
Elementary students have the opportunity to share their culture and values with others and to learn about the global community through the social studies curriculum. Students are encouraged to develop a sense of community and expand to a broader understanding of the world through studies about culture, history, geography, and economics. Map skills are also taught at each grade level.
Related Arts
Korean & Mandarin
The goal of the elementary Korean & Mandarin program is for the students to begin acquiring skills in listening, speaking, reading, and writing that will lay the foundation for future language study. Students also gain a greater understanding of culture and geography. Vocabulary and expressions are focused on a variety of basic units, such as greetings, family, introductions, numbers, food, animals, clothing, the body, and hobbies. Students are placed in either the beginner or intermediate-level class based on their skills in relation to our adopted language standards.
Media
The media curriculum uses national standards from several sources, including the American Association of School Libraries (AASL). The media curriculum is taught in conjunction with grade level standards and integrated into content areas. The media curriculum also integrates technology skills into lessons that are taught by the Media Specialist, who develops subject content in collaboration with classroom teachers.
Physical Education
The emphasis of elementary PE is on moving through space and time. Students learn to perform a variety of fundamental locomotor and nonlocomotor skills. They also learn to manipulate objects with purposeful movement. Students begin to understand specific movements involved in dance, gymnastics, swimming, and individual and team sports. They also develop an understanding of human body systems and their functions.
Technology
All elementary students participate in two technology classes per six-day cycle. Lessons focus on how to use computers and technology responsibly, typing (3rd-5th), digital citizenship, and computational thinking through block coding.
Visual & Performing Arts
All elementary students participate in visual arts and music classes. The focus is on teaching students to identify and apply the basic elements of art and music. Students are encouraged to express themselves, think creatively, problem solve, and appreciate the self-expression of others. Periodically, students will display their projects and perform for the school community.
Middle School
- The middle school strives to provide a learning environment where students feel accepted and appreciated and are free to share ideas, express thoughts, and ask questions. A secure and nurturing environment allows for enthusiasm, inquisiveness, and accomplishment.
Core Classes
6th : Bible or Philosophy, English Language Arts, Math 6 or Pre-Algebra, Science, Social Studies
7th : Bible or Philosophy, English Language Arts, Pre-Algebra or Algebra I, Science, Social Studies
8th : Bible or Philosophy, English Language Arts, Algebra I or Geometry, Science, Social Studies
Required Classes
6th : Art, PE, Technology, Band, Choir or Orchestra, World Language (Korean, Mandarin or Spanish)
7th : 1 Fine Art Course, PE, 1Technology Course, World Language (Korean, Mandarin or Spanish)
8th : 1 Fine Art Course, PE, 1Technology Course, World Language (Korean, Mandarin or Spanish)
Exploratory Classes
6th : Drama, Team Sports
7th : PE, Performing Arts, Science and Technology, Visual Arts
8th : PE, Performing Arts, Science and Technology, Visual Arts
High School
- In 9th through 12th grade, our college preparatory focus begins to truly shine. The entire high school program is designed to connect students to university-level opportunity and success. Faculty create student-centered classrooms that enhance learning, accelerate acchivement, and develop the critical thinking necessary for success in college and beyond. Our comprehensive extracurricular program includes an array of athletics, performing and fine arts, community service, and leadership programs which develop students' talents, interests and character. In 9th-12th grade, one credit is awarded for each one-year course successfully completed. A half credit is earned for completion of one semester. Students earn the YISS diploma by acquiring the requisite number of credits in the various subject areas and attaining a minimum of 24 credits while in 9th- 12th grade.
English : American Literature, AP Seminar, British Literature, ELL (Beg/Int), Literature for Life, World Literature, AP Language & Composition, AP Literature & Composition
Mathematics : Algebra I, Algebra II, Calculus I, Geometry, Pre-Calculus w/Trigonometry, AP Calculus AB, AP Calculus BC, AP Statistics, AP Computer Science Principles, AP Computer Science A
Science : Biology, Biology & Ecology & the Environment, Chemistry, Chemistry in the Community, Human Anatomy & Physiology, Physics, AP Biology, AP Chemistry, AP Physics 1, AP Physics C; Mechanics
Social Studies : Comparative Government/ Economics, United States History, World History I, World History II, AP Atr History, AP Comparative Government, AP European History, AP Psychology, AP United States Government, AP United States History, AP World History
Physical Education : Conditioning & Weight Training, Health & Physical Education
World Language : Korean I II III IV, Korean Literature, French I II III IV, Japanese I II III IV, Mandarin I II III IV, Spanish I II III IV, AP Chinese Language & Culture, AP Japanese Language & Culture, AP Spanish Language & Culture
Fine Arts : Concert Band, Digital Media Marketing, Drama, Drawing & Painting I ~ II, Foundations od Art & Design, Jazz Band, Journalism, Speech & Debate, Stings, Visual Designe 2D/3D, Yearbook, Yongsan Chamber Choir, Yongsan Singers, AP Art History, AP Music Theory, AP Studio Art - 2D/3D/Drawing
Computer : Computer Application; Video & Design
Theology, Ethics, Values (semester classes) : Christian Theology I~II, Old Testament, Introduction to Logic, Introduction to Philosophy I~II, Life Skills & Intro to Worldview, Modern Philosophy, New Testament Studies, Survey, History of Thought, Philosophy of Science, Senior Seminar, Survey of World Religions
Additional Programs : AP Research, Arrowsmith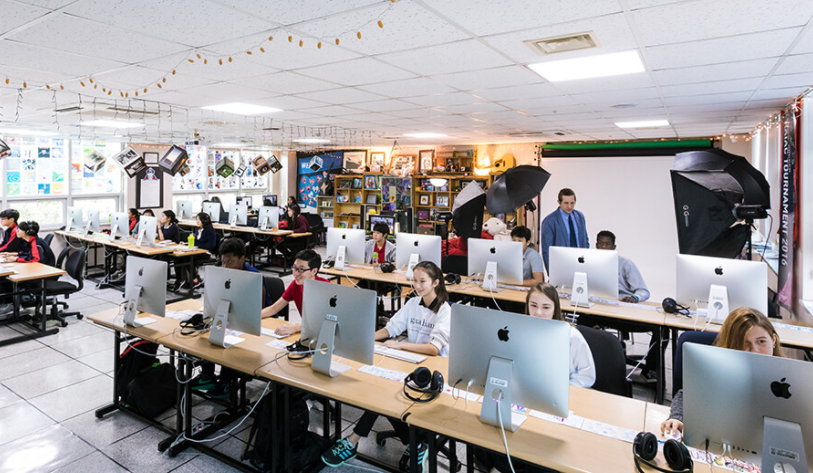 About us:
The Yongsan International School of Seoul (YISS) project was initiated through the work of a task force organized by the Ministry of Commerce, Industry and Energy (MOCIE) in May 2003 as an effort to improve the educational environment of foreign families in Korea. In December of 2003, the task force identified the expatriate community's need for a school, which was then addressed with a decision by the Foreign Investor Committee to consider the funding and establishment of a new school.
In 2004, the Korea Foreign Schools Foundation (KFSF) was created with the approval of the MOCIE to establish, operate, manage, and administrate Yongsan International School Seoul (YISS), a new international school facility in Hannam-dong. According to the KFSF, "the mission was to establish a renowned, world class educational institution for the children of foreign investors in Korea in efforts to stimulate foreign direct investment which [would] be mutually beneficial to both the Korean economy and the foreign investors as well."
In 2006, YISS was established. The project was supported by financial contributions from the national government and businesses. The KFSF leased the land for the campus from the Seoul Metropolitan Government and built the school facilities. The operator selected by the KFSF was the International Christian School of Seoul (ICS), which NICS/Oasis had been operating in Korea since 1990 and had an enrollment of over 500 students. ICS - Seoul then moved to the new campus and changed its name to Yongsan International School Seoul (YISS).
Since the move to the current campus in 2006, YISS has doubled in size, increased its Advanced Placement (AP) course offerings, and added many other programs. YISS has maintained a curriculum and climate which reflects the Christian values upon which it was built; however, after being selected by the KFSF, the school began offering parents a choice between a secular track (Oasis) and Christian track (NICS).
The KFSF has remained active in the operations of YISS by providing continued support, guidance, and scholarships. The KFSF has expanded its buildings and facilities in order to further develop and improve the school. Enhanced facilities have enabled YISS to offer more classes and broaden the curriculum, thus greatly increasing the competitiveness of the school.
+82-2-797-5104
business.office@yisseoul.org
Reply
Write Reply