News
2021-01-18 16:45:08
622
Seoul, Korea, Hannam-dong, Itaewon, HBC, UN Village, real estate, relocation, housing, accommodation, rent, Oksu-dong, embassy, moving, home, Korea, villa, apartment, Gangnam, Seocho, Seorae village,
지구촌기독외국인학교
(

Global Christian Foreign School

)
Age Group : From Kindergarten to High School
Location : 115, Dokseodang-ro, Yongsan-gu, Seoul
(서울특별시 용산구 독서당로 115)
Foundation : 1996
Education Language : English

Curriculum:
Currently, GCFS is following the standards set by the Common Core State Standards. The Common Core State Standards not only address the needs of educational standards in the United States, but have also extracted from important international models as well. These standards have been adopted by forty four states, and the ongoing endeavor for the perfection of these standards draw upon the work of state departments of education, scholars, assessment developers, professional organizations, educators from K-12, parents, students, and the public. GCFS also stands as a member of the Association of Christian School International (ACSI). The standards and benchmarks that come with this accreditation will also be implemented in the classroom.
Elementary School (Kindergarten - 5th Grade)
- Mathematics, Science, Social Studies, Reading, Writing, Spelling, Grammer, Health, Physical Education, Music, Bible, Art, Spanish, Creative Writing
Middle School (6 - 8th Grade)
- Ancient History Medieval World History, Earth Science, Life Science, Basic Mathemetics, Pre-Algebra, Algebra, English, Bible, Art, Music, Spanish, English as Second Language, Physical Education, Health & Values, Speech
High School (9 - 12th Grade)
- World Geography, U.S.History, Government, World History, Current Events, Earth Science, Physical Science, Biology, Chemistry, Physics, Algebra I,II, Geometry, Pre-Calculus, Calculus, Statistics, World Literature, American Literature, British Literature, Spanish, Mandarin, Speech / Debate, Bible, Art / Studio Design, PE / Health, Music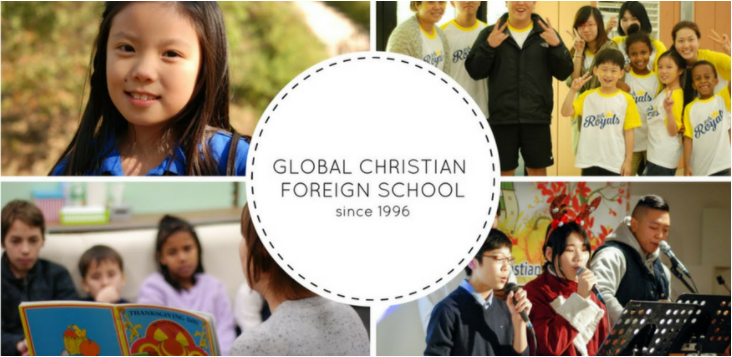 About us :
Welcome to Global Christian Foreign School!

May many blessings be poured out to all the visitors, parents, GCFS family members, and all the nations that are directly involved with Global Christian Foreign School.

In 1996, GCFS was founded by Pastor Joseph Song who majored in Chemical Engineering, Education, Christian Counseling and received his M.Div.. In 1999, after his passing, his wife Soon-Rahn Song continued the vision for GCFS and is currently the headmistress of GCFS.

Our continuous vision for GCFS is for each and every individual student to be raised up and released as global Christian leaders. And in the last 23 years, approximately 40 different nations came to receive Christian education from the Christ-centered standards and values we uphold.

This vision has been possible through the many faithful kingdom workers that have partnered with us in bringing excellence in teaching, serving, and raising up each student.

The maximum capacity of our school is 100 and that is our main strength as we foster a culture of family between teachers, staff, and students. Many students and alumni will testify how it is not solely an academic progress that is evident, but a character transformation that is experienced to those who enter through the school doors. Understanding the heartbeat of why GCFS exists, these very same students are going out into the world and displaying their leadership as the light and salt of this world.

In a very self-centered and entitled generation, sense of family and putting others first is not easily found or valued. However, we as a student body of K-12 grade, we consistently learn and grow in a place of love. To care and nurture one another as we become one family. For your child, we continue to take our calling and purpose with Christ's love to raise and release them into the crooked and depraved generation and to bring light and hope as global Christian leaders. We as a school are always ready and prepared for your child to join us and become a family member. Our prayer is that they can be the beautiful and precious light to bring Christ's hope and glory to many nations.
+82-2-797-0234
admin@gcfskorea.org
Reply
Write Reply